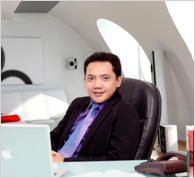 Taufik Basari is the founder and managing partner of The Firm. He is an advocate who has extensive experiences in dealing with many public interest cases.
He obtained his master degree in international law (LL.M.) in 2005 from Northwestern University School of Law, Chicago, U.S.A. after he received a prestigious scholarship from Fulbright Grant Award.
He holds two bachelor degrees, Bachelor of Law (S.H.) from Faculty of Law – University of Indonesia and Bachelor of Philosophy (S.Hum.) from Department of Philosophy, Faculty of Humanities University of Indonesia.
Mr. Basari started his law career by joining Jakarta Legal Aid Institute (LBH Jakarta) in 2000 as Assistant to Public Advocate. Afterwards, he served as staff of Civil and Political Rights Division (2001-2002), Head of Policy Advocacy Division (2002-2005) and Head of Research Division (2005-2006) laterly. He was then appointed as a Director of Legal Aid and Advocacy at the Indonesian Legal Aid Foundation (YLBHI), Jakarta, in 2006. He led and supervised all advocacy activities conducted by 14 branches of Legal Aid Institute offices all over Indonesia.
Just after finishing his study in the U.S. in 2005, he was appointed as a Program Consultant at a leading International organization, International Centre for Transitional Justice (ICTJ) in New York and he was working there for a couple months before he got back to Indonesia and continued his services at YLBHI. He was also appointed as researcher and Indonesian local partner for the Asian Human Rights Commission, Hong Kong in 2005.
Mr. Basari has extensive experiences in the field of advocacy, litigation before the court and non-litigation outside the court.
Mr. Basari also actively involves with the advocacy of public policy and legal reform. With the network, he contributes his thoughts to support legal reform and judicial reform in Indonesia.
In addition to his legal professional activities, Mr. Basari is a lecturer at the Department of Philosophy Faculty of Humanities - University of Indonesia and a guest lecturer at several universities. He occasionally writes in academic journals. He is also active as a speaker in various workshops, seminars or conferences both national and international.
Mr. Basari is also known as Corporate Social Responsibilities Consultant as well as a human development facilitator. He also actively supports the legal education and legal empowerment to the community.
Mr. Basari is one of the Chairpersons of the Executive Board of the Congress of Indonesian Advocate –KAI (2008-2013) and the Deputy Secretary General of the Executive Board of the Indonesian Bar Association –IKADIN (2007-2012).
Mr. Basari speaks Bahasa and English.